Welcome to this week's issue of The COGS Connection!
August 21, 2016
 In this week's newsletter …  Motivational Quote of the Week.  Graduate Level Humor. Fall 2016.  Graduation Applications.  Alumni Spotlight.  Conflict Resolution and Mediation Course.
"Education's purpose is to replace an empty mind with an open one."  – Malcolm Forbes
Graduate Level Humor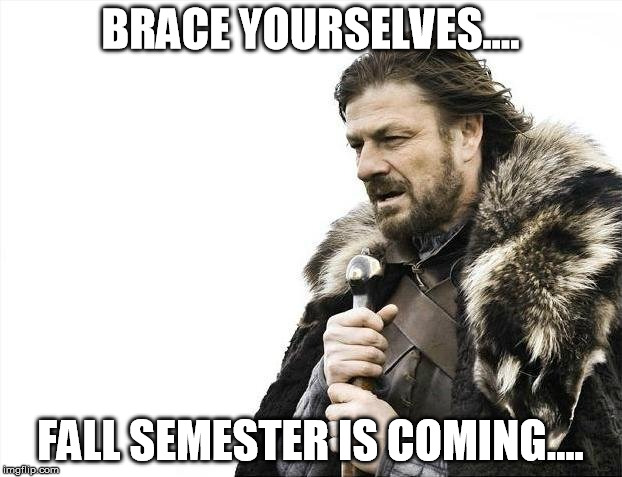 Fall 2016
The first day of the fall 2016 semester is August 29th.  The semester begins a little later this year, and many deadlines will be altered to correspond with the change. Please check the University calendar and stay connected with us on social media to remain informed.
Graduation Application Deadline  
Graduating this fall?  Congratulations!  Don't forget to submit your application for graduation by September 9th if you would like to participate in the December ceremony. Commencement will be held in Wisdom Gym in Stephenville during the weekend of December 17th.  Details will be forthcoming.  Watch your Tarleton email for announcements.
Alumni Spotlight
Tarleton alumnus, Brad Mills, utilized his experience as a graduate assistant in the Rec Sports Center to discover his future career. Learn more about Brad, and meet new graduate assistant for RSC, Kerra Canup, in our latest blog post.
Conflict Resolution and Mediation Course
Registration is open now through Sept. 2 for a new conflict resolution course to be offered this fall. Participants who successfully complete the 10-session course will be qualified to provide all mediation services recognized by the State Bar of Texas and other state jurisdictions. The class is set for 9 a.m. to 1 p.m. each Friday from Sept. 16 through Nov. 18 on Tarleton's Stephenville campus. Cost is $599 for community members. There is no charge for Tarleton faculty and staff, but all participants must purchase a $28 textbook. The course covers the phases of the mediation process and acquaints participants with the role of the mediator as an impartial third party, with a special emphasis on ethics. More information here.
Visit us online!  | College of Graduate Studies
Know of something that should be added to our newsletter? Email: edunn@tarleton.edu
**********************************************************************